The impact testing facility composed of: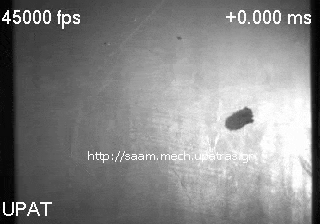 a gas cannon that operates with pressurized nitrogen.
a protective polycarbonate chamber, practically bulletproof.
high-speed imaging apparatus, up to 500k fps.
The facility if capable of
Ultra High Frequency signal generation and acquisition systems (1-10MHz).
High Frequency (1-1MHz) amplifier for active piezoceramic sensor pairs.
Laser Doppler Vibrometer (Polytek) non-conduct sensor with high velocity and displacement resolution, and high sampling-frequency (300ksamples/sec).

Acceleration (1D and 3D), force, strain and temperature measurement
Impact force excitation through a range of impact hammers (miniature to heavy)
Continuous force excitation (6lb and 50lb electromagnetic shakers)
8- and 4-channel high-speed dynamic data acquisition & spectral analyzer systems
Modal frequency, damping and mode shapes measurement
Composite Damping Characterization
The Smart Material Testing Lab is employed for:
Testing of piezoelectric actuators & sensors
Thermomechanical testing and stabilization of SMA actuators
High-voltage, high-frequency amplifiers for the excitation of piezo-actuators (±700Volts, 0-100kHz)
Active Shape and Vibration Control
High-speed, high-precision dynamic data acquisition systems
You are here:  

Facilities||Equipment & Infrastructure